Listen, there are practical survival tips for logging long hours and thousands of steps, fielding dozens of conversations, adapting your routine, and making the most of a valuable business conference. But a true survival kit depends on how much this scene (and it is a scene) suits you or doesn't. If you're an introvert, you face a unique set of challenges gleaning all the value you can through means of subterfuge. If you're an extrovert and this is your stage, someone will need to remind you to sleep. Let's see where you line up: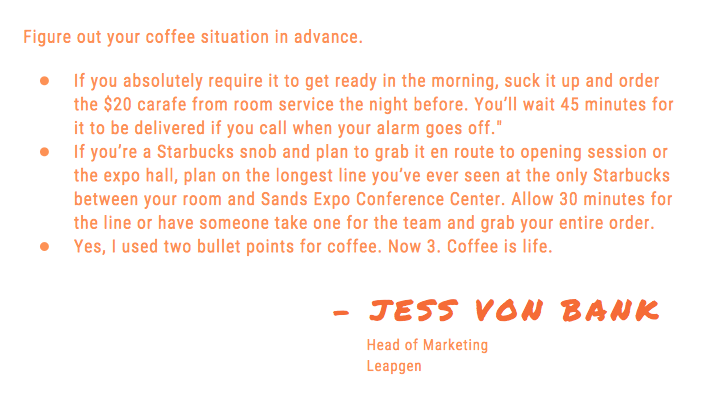 The largest and longest-running independent conference for HR and technology ALSO hosts Women in Tech as its pre-conference. Consider a premium pass to participate in game-changing conversation with women and men. Don't miss opening and closing keynotes by Workday (In Data We Trust) and Walmart (Leading Hiring Innovation for Women in Tech) plus a couple of our FAVORITE BREAKOUTS:
Jess Von Bank, Kyle Lagunas and Tim Sackett discussing the role of Mothers, Sons and Daughters in shaping the future of work.

What challenges does industry analyst Josh Bersin tell us are in store for the future of HR Tech? Read it all here before you go

Gah, there's so much more…check out the full Women in Tech agenda here.

And now for more #protips from the Conference Pros.
"Be brave and put yourself out there if you are fresh to the industry and looking to build your circle of contacts and your knowledge base. Introduce yourself to people and let them know you are new to HR Tech. Our industry is pretty welcoming. Follow the greats in our space on social.
"Introvert like me? Be an enthusiasm vampire. Draft on the extroverts' energy. When I start to run out of juice at a big conference, I go searching for people giving off a lot of great energy and just absorb it. Salespeople are the best source of a quick hit of enthusiasm and excitement. But you can also get it from the speaker and the crowd during a great session or from the group at a party. This trick takes a little practice because it is completely counterintuitive to an introvert's desire to shut down and hide."
"Read the speaker list to see who's coming and outline talking points relevant to them."
"I believe in doing well by doing good, so I try to focus each year on the people I serve, including buyers and end users of my products as well as people in the industry I think are doing good work to whom I can pay forward all the help I've received over the years. It's less about following personalities than about serving actual people."
P.S. Did You Know?
LRP collects leftover sponsor swag and donates it to organizations and schools who always need pens, backpacks, supplies, etc.